Year-round
sports activities
Liptov is one of the most attractive regions. It offers possibility of year-round sport activities. During a summer time, you can enjoy water sports, hiking, cycling, mushroom picking, fishing or you can visit our water parks or historical and cultural monuments. Skiing, snowboarding, ski alpinism and many other types of winter sports are popular in the winter, as well as visit of our thermal parks. 
F-Team Hotel is surrounded by the highest and most beautiful mountains in Slovakia – the High Tatras and Low Tatras. Due to its location, near rivers Belá and Váh, it is also suitable for water sports fans. Rafting on these rivers is one of the greatest rafting adventures in Slovakia.
Our ski resorts offer great conditions for skiers. The most popular are Jasná, Závažná Poruba – Opalisko, Pavčiná Lehota, Žiar, Vyšná Boca, Čertovica. Žiarská and Demänovská valleys offer great conditions for lovers of ski alpinism.
With family, friends or your loved ones – you can relax all year round and enjoy great fun in nearby aquapark Tatralandia or in the Thermal Park Bešeňová, which are only a few minutes away from our hotel. Do not hesitate to ask us which place may suit you better.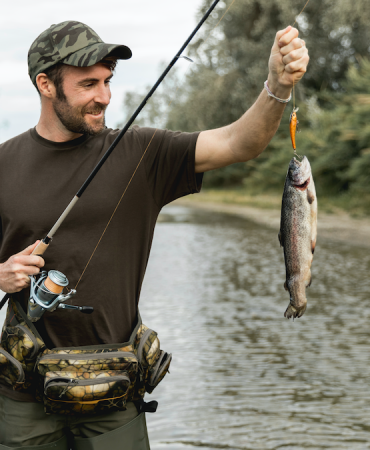 If you are a fisherman or you would like to try this popular activity, you have a great opportunity here. We offer fishing tickets for fishing on the rivers Váh and Belá. Tickets can be purchased directly at the our reception.
There are three caves in Liptov. You can discover their secrets in nearby caves such as Demänovská Cave of Freedom, Demänovská Ice Cave or in Važecká Cave. Demänovská Cave of Freedom is one of the most beautiful caves in Europe.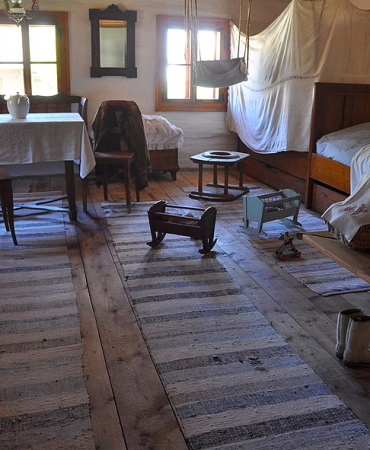 In the Museum of the Liptov Village in Pribylina you can get to know wooden architecture, Liptov folklore and folk crafts. Every Sunday from May to October, there are thematic events such as Spring Holidays, Sheep Sunday, Children's Sunday, and others.
The reservation of folk architecture in Vlkolínec is included in the UNESCO World Natural and Cultural Heritage List. It is a group of traditional wooden houses typical for this area and these houses are considered to be the most complete group of wooden houses of their kind in our region.
HIKING
The location of Liptov, surrounded by the High Tatras in the east, the Low Tatras in the south, the Western Tatras in the north creates unique conditions for hiking and biking.
You can walk through beautiful mountains and valleys along marked hiking trails, or we will provide you a professional mountain guide, who will take you to easier hiking tours, but also to more difficult ones. For more experienced tourists there are multi-day mountain crossings, rock climbing in the High Tatras or mountain bike tours.
RAFTING
Rivers Váh and Belá flow near our hotel. The beginning of rafting on Váh is in village Kráľová Lehota. It can be ended at Borová Sihot, near Liptovský Hrádok or it can continue to Liptovská Mara.
For experienced rafters, we can provide storage of boats and rafts, for beginners we provide rental of equipment and professional guide. The water slalom complex with 4 slalom tracks and a shipyard is located in Liptovský Mikuláš, 10 km away – it is also a venue for traditional regional slalom as well as various events of European and world importance.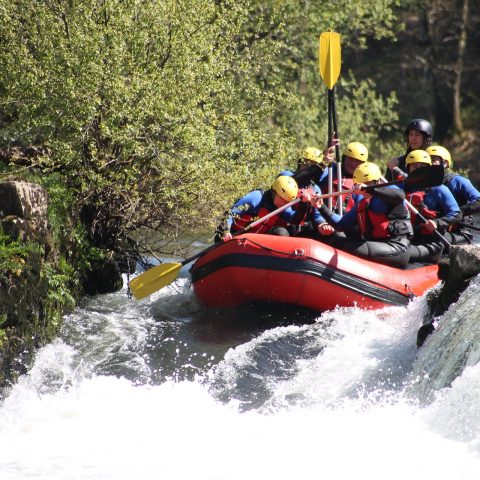 Map of the region
Besides skiing and hiking, this region also offers less traditional sports such as paragliding, rafting, horseback riding, caving, sightseeing flights, hunting and fishing. You can try paitball, archery, balloon flights, quad riding. You will definitely not be bored here in Liptov !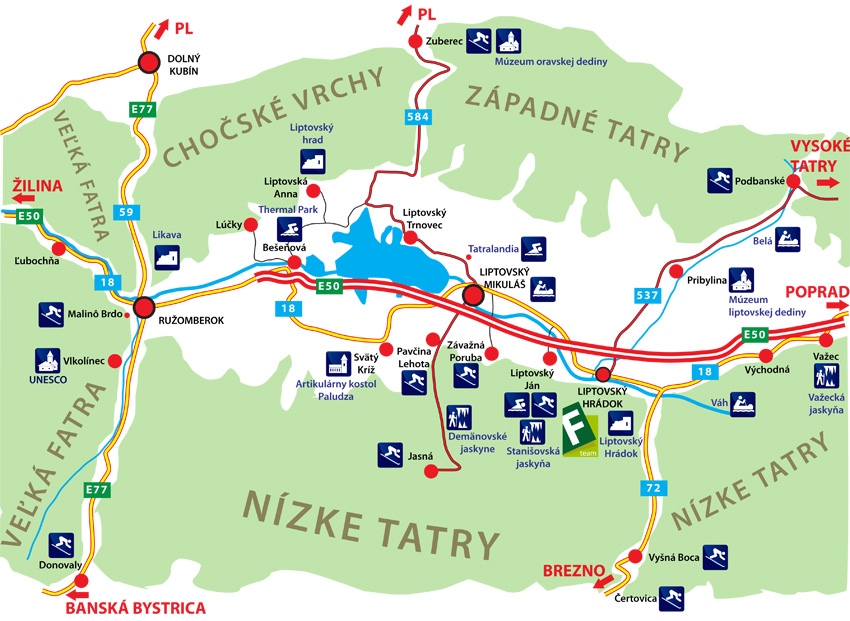 WHERE TO GO ?
We will be happy to advise you how to enjoy your stay in Liptov to the fullest !